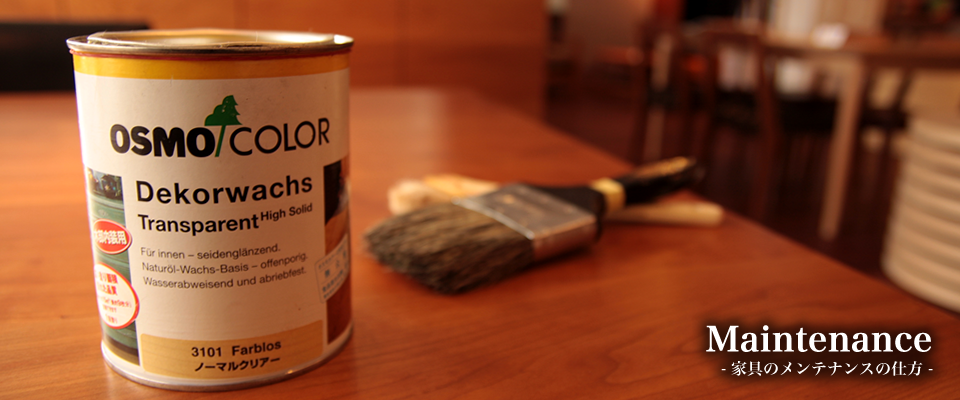 Furniture will respond to it if you give affection.
Maintenance of furniture depends on its material and painting method. Regular maintenance is required for oil-finished, wax-finished and soap-finished. Unlike painting with urethane etc. These finishing methods do not make paint films and soak into wood. The maintenance is essential. We will explain about oil-finished that is the most popular method. Why let oil penetrate wood? Oil and water repel each other, preventing watery stains and moisturizing wood. German-born pollution-free paint called Osmocolor or Lipos that have the effect of adding wax to oil and repelling water. I explain how to maintain oil-finished furniture using Osmocolor. The frequency is different by the furniture, if the table is about half a year, shelves and chairs are once in a few years. Please maintain when the surface of the wood becomes dry feeling. Spend the paint into the cloth thinly. Be careful not to apply thick coating.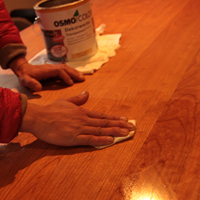 This picture is painting the top board made of black cherry wood using the Osmocolor. Please paint the top board evenly according to this procedure. Wait 5 to 10 minutes when painting is completed on the whole.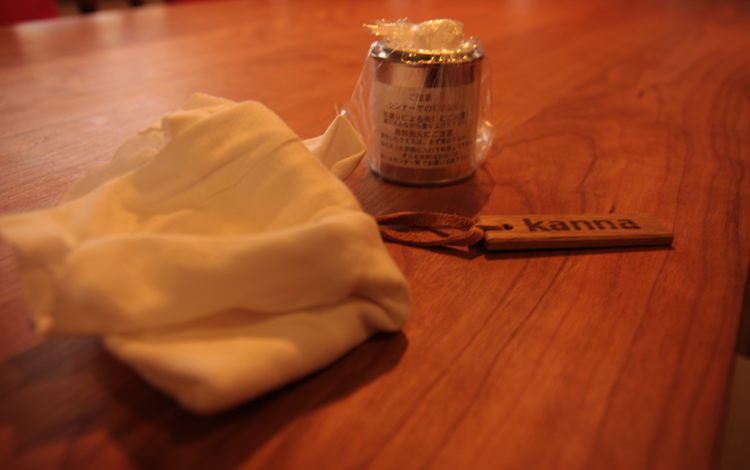 Next, we have to wipe it off. Please prepare another larger cloth than the previous one. Wipe the whole with cloth. At this time, please change to a beautiful face if the cloth becomes dirty. As wipe the top, it will gradually become smooth. This is a sign of work completion.